Spoiler Alert: This page contains minor spoilers from the events of the games.
Don't worry too much about them but take it into account.

"
Yep that's right! Murder him up, please! Slice that dick to smithereens!
"

—Yuki, asking Sieg to avenge her boss.
About
[
]
Yuki is the apostle of the ice angel Dark Lord La Saizel, and as such is also a member of the Kayblis Faction. During the Monster Invasion on Rance VI she, led by Sieg, La Saizel and Camilla, was charged with reconnaissance and leading the monster armies on the field. As she was previously a Frozen Gal Monster, she has powerful ice powers to better supplement those of her master. However as an apostle, instead of showing the usual deference to her Dark Lord, she is extremely insolent and often openly mocks her superior. Despite this, she is quite loyal when the chips are down and will not hesitate to kill any who would threaten the ice angel.
Yuki later appeared in one of the set encounters defending the newly ascended Dark Lord, Abert Safety. Her appearance comes and goes without comment, so her exact reasons for being there are unknown.
This section contains spoilers from a game that has not been translated to English yet.
Expand if you wish to read regardless.
She returns in Rance X, aiding her master fighting the Human Army and La Hawzel. If la Saizel is recruited to Rance's army, she will join as well.
Personality and Appearance
[
]
Yuki looks like a young girl with purple hair and outlandishly large purple arm extenders that end with blue frozen hands, and using her own powers, is often floating in the air. However this youthful appearance belies a manic and sadistic personality.
Yuki almost constantly laughs in a eerie fashion, and is absolutely merciless to any creature that would stand in her way. This cruel behavior is not really limited to her enemies, as unique among apostles, she often laughs and belittles her own Dark Lord, and will even try to pawn off some of her responsibilities on to her.
Abilities
[
]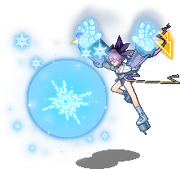 As a Frozen turned Apostle, Yuki has powerful ice abilities and is able to constantly assault her enemies with a barrage of ice. Of course, she is herself completely unaffected by the cold, and if Yuki and La Saizel are to stay at any particular place for some time, the temperature soon drops to freezing temperatures.
She also has a unique ability called Instant Freeze which can suddenly freeze both her entire body and whatever she was currently in contact with. Though her own body is destroyed by this power, her head remains unaffected, allowing her to easily float away and eventually regenerate.
Trivia
[
]
Her name Yuki, albeit often written in katakana as ユキ, is pronounced the same as the kanji 雪, which means "snow".
Gallery
[
]
[

]