Toushin Toshi 3
闘神都市III
Tōshin Toshi III

(c)アリスソフト Box art
Brand
Alice Soft
Release date
2008/11/28
Genre / Rating
RPG / 18+
Base price
¥8500
Voice
yes
About
[
]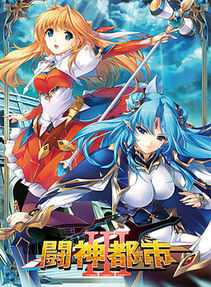 Toushin Toshi 3 is the third installment of the Toushin Toshi Series released in 2008 ,as much as 14 years after the very notable second entry of the series, Toushin Toshi 2. The series is also noted for taking place in The Continent, the same setting of the Rance Series. Unlike the first game however, Toushin Toshi 3 is set in an alternate timeline, somewhat similar to Kichikuou Rance.
Just like the previous games, it is a dungeon crawler with a style of retro-rpgs, featuring the classic simplistic gameplay of older games of the genre. It is also one of the first Alicesoft games to use 3D graphics, however, the work on it isn't quite as good as it could be precisely due to the fact that it was one of the first. While the dungeons look quite good, the modelling of enemies and 3D battles are quite mediocre and poorly animated.
The game follows the story of Nacht Ragnard who, similar to Kumiko from the first game, enters the Toushin Toshi Tournament in an attempt to find his missing father who participated and won years ago. Unlike the previous game, which is endearingly remembered as one of the best Alicesoft games, Toushin Toshi 3 has received a very negative reception with the public. While the plotline is actually pretty good, the characterization is pretty poorly handled, and the dungeon crawling itself is one of the game biggest flaws, due to the repetitive and narrow battle system, and the dull design of the dungeons. Possibly due to the inevitable comparison with the previous one, it is often considered one of the worst games of the company. While it is certainly very inferior, it is by no means a terrible game, but very flawed and dissappointing for the fans of the series who expected something on par with the old classic.
The game's soundtrack was released as Alicesoft Sound Album Vol. 15.
Story
[
]
Toushin Tournament -- an annual event held in the Toushin Toushi. All contestants are required to register with a beautiful female partner, and the winner of each battle gains the privilege of doing anything they want with the loser's partner (except harming them). The final winner of the tournament earns the title of Toushin, and gets to live freely in the Toushin District of the city with his partner.
Five years ago, Nacht's father participated in the Toushin Tournament, saying he'll be back when he wins. That was the last Nacht ever heard of him. Now, having grown up and hoping to discover the fate of his father, Nacht sets out to enter the tournament his father disappeared in.
Characters
[
]
Main Characters
[
]
Toushin Tournament Participants
[
]
Toushin City
[
]
Others
[
]
Dimensional Door
[
]
Opening Video
[
]
Toushin Toshi Series
[
]
Toushin Toushi 3 is set in a parallel universe as  Toushin Toshi  and  Toushin Toshi II , as opposed to being in the same continuity.
---
Toushin Toshi series
(c)アリスソフト