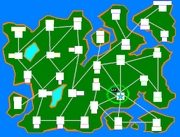 Tou Kyou [Regional Income:200] is one of the cities in the Kantou region. It had been under the control of PGG until the Rouga Battalion took over and declared Independence.
Cities next to Tou Kyou - Ju Kai, Aki Ha Bara, Shin Gata, Shin Juku, Yoko Hama, Dream Island and HAWAII
Buildings in Tou Kyou: Seijou Academy [Income:00,Law:25] and Colloseum [Income:00,Law:00]
Notes
[
]
The kanji of Tou Kyou literally means "The Battle Capital", and is a homophone pun of Tokyo, "The Eastern Capital".