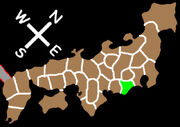 Tokaido is one of the provinces of JAPAN. It is held by the Imagawa House.
Tokaido is bordered by Mikawa, Shinano, Shell, and Edo.
Trivia
[
]
The Tokaido in actual warring states Japan was a region that encompasses many provinces. The Tokaido in Sengoku Rance's JAPAN roughly covers the equivalent of Suruga Province (駿河国) and the eastern half of Totomi Province (遠江国).
Imagawa Yoshimoto was called "海道一の弓取り"(Kaidōichi no yumitori = the strongest general in the Kaidō (=Tōkaidō)).