Tanegashima House
種子島家
tanegashima-ke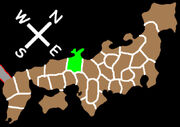 Leader: Tanegashima Shigehiko
Principle: Sell lots of fire arms and make lots of money.
Military strength: 3/5 (mostly consists of troops utilizing the new fire arms weapon).
The Tanegashima House is the only country to be able to create and mass produce fire arms. With archery as the only pre-existing ranged weapon in the land, the Tanegashima House may fundamentally change the rules of war.
The Tanegashima House controls Tamba
Appears in: Sengoku Rance
Key characters
[
]
Army
[
]
Commanders
[
]
Troops
[
]
Trivia
[
]