About
[
]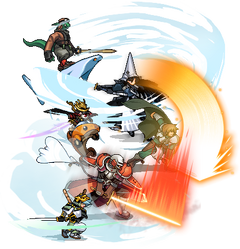 Sword Combat is a skill level that represents the skill and talent an individual possess to wield a sword for combat purposes. A person versed in the art of the sword. 
This is a common skill for soldiers, adventurers, and mercenaries, since swords are common weapon due to their efficiency in simplicity. With a lengthened blade fitted into the top of a handle, with many varying designs and kinds, the Sword remains one of the most popular weapons. Most swords however tend to rust and wear down over time, which is why warriors tend to change swords fairly often. 
JAPANese have a different type of sword called katana, which was also imported to the mainland. It is characterized by its distinctive shape, being curved, slender and single-edged blade with a circular or squared guard and long grip to accommodate two hands. 
Since the sword is the most popular weapon of choice, the strongest swordsmen tend to be among the world's most powerful fighters.
Sword Combat as a Skill Level
[
]
As a skill level, having a Lv0 skill in Sword Combat is fairly common, since most people can pick a sword and wield one to a decent degree for self-defense.
With a Sword Combat Lv1 skill, a warrior is considerably stronger. A human with such skill could reach an above average rank in the military or become a more than a competent adventurer, but it also varies wildly depending on each individual. 
A Sword Combat Lv2 skill is a lot more rare. They can employ unique skills that tend to be powerful enough to decimate several foes with one wave of the sword, and their strength tends to grant them fame and praise. As proof of this, the strongest fighters in JAPAN, Helman and Leazas, possess this skill level.
A Sword Combat Lv3 is absurdly rare. Only one case is know and is the Emperor Fujiwara Ishimaru, but it remains unknown how strong he was, yet it is well known that he was one of the strongest humans in history though.
Unique Famous Swords
[
]
Known Users
[
]
Sword Combat Lv3
[
]
Sword Combat Lv2
[
]
Sword Combat Lv1
[
]
Mouri Motonari

Bashou Matio

Corning Berkudoran

Term Sarbenaott
Sword Combat Lv0
[
]