About
[
]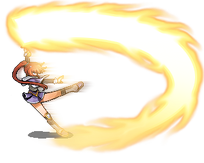 Spell-Bladers are individuals that are profficient in the Magic Arts and with Swordplay. They are usually swordfighter that combine their attacks with Magic, but the fighting style varies depending on each person. Some enchant their swords with magic to give it more powerful properties.
Contrary to what one would expect, there isn't a skill level for spell-bladers, but they are simply those that combine Magic and Sword Combat skills. 
Known Spell-Bladers
[
]
Trivia
[
]
Several characters from other Alicesoft games also combine magic and combat skills, such as Seed Cashima from the highly-similar Toushin Toshi II setting, or the Magic Knights of the World of Eve. Even Rance has occasionally shown the ability to cast weak magic, seemingly derived from his sexual relationship with Sill Plain.