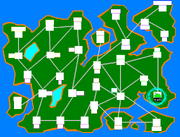 Shi Zu Oka is one of the cities in the Kantou region. It had been under the control of PGG and is the location of PGG's headquarters -- Number One Academy.
Cities next to Shi Zu Oka: Ju Kai and Tot Tori
Buildings: Number One Academy and Observatory
Trivia
[
]
The name 志津岡 ("Shi Zu Oka") is a homophone pun of 静岡 ("Shizuoka"). The original kanji for "shizu" (quiet) is replaced by two separate kanjis.