Spoiler Alert: This page contains minor spoilers from the events of the games.
Don't worry too much about them but take it into account.

"
I'll fuck the enemy general from one end, kill 'em, then fuck 'em again from the other! It's gonna be a rape festival!
"

—Rovert Landstar, being his usual self.
About
[
]
Rovert Landstar was an unconventional captain of the Helman 3rd Army and the older brother of Sepia Landstar.
An extremely crass and bizarre man, Rovert quickly gained infamy among his colleagues for his flagrant disregard of military protocol in favor of performing strategies of his own devising. These strategies generally defied all logic and were extremely unsafe, relying heavily on dangerous equipment such as high-powered explosives, and frequently resulted in him needlessly complicating what would otherwise be routine operations. Rovert's behavior led to constant complaints from the rest of the 3rd Army, forcing the more responsible Sepia to regularly apologize on his behalf.
While Rovert's antics occasionally caused him to sabotage missions that were projected to have high success rates, they also had the uncanny tendency to bring about miraculous victories in ones that were expected to fail. This unorthodox talent was noticed by General Thoma Lipton, who chose to tolerate Rovert's insubordination due to believing him to be more of an asset than a liability. Thoma's recognition allowed Rovert to shine in battle several times, leading him to eventually rise to the rank of captain and gain command over his own group of soldiers, dubbed the Landstar Squad, with Sepia serving as his vice-captain.
In the year LP0001, Rovert rather suddenly began to stop wearing trousers, choosing to instead walk around solely in his underwear at all times. While his sister theorized that this was an avant-garde protest of the concept of uniforms, Rovert himself claimed that he simply disliked having his crotch covered. Rovert continued this habit for the remainder of his life, much to his sister's embarrassment, and expressed agitation whenever he was asked to cover himself.
During the events of Rance 03, the Landstar Squad participated in the 7th Helman-Leazas War with the rest of the 3rd Army. While the group was ordered to station itself in the Leazas city of Oku, Rovert, seemingly on a whim, chose to instead assist the army of Fletcher Modell in its occupation of the Free City of Red. When the Leazas Liberation Army began its operation to retake Red, Rovert deliberately delayed attending the battle in order to make his eventual entrance more dramatic. This irresponsible behavior resulted in him arriving after the Liberation Army had already succeeded in defeating Fletcher and his troops, largely in thanks to the powerful Tulip #3 tank constructed by Maria Custard. Rovert was not at all discouraged by either Fletcher's defeat or the Tulip's power, and instead began concocting a scheme to defeat the Tulip, expressing excitement over being able to get recognized as the man who succeeded where Fletcher had failed.
Rovert first attempted to overcome the Tulip's might by halting its movement with a concealed piece of ground that his sister had enchanted with sticky ground Magic, hoping that it would force its passengers to exit it and open themselves up for an ambush. While the plan initially succeeded, a combination of the crudeness of the spell and the Tulip's high-powered treads allowed it to free itself after a few moments. Aggravated, Rovert decided to take a more direct approach in his second strategy, wherein he would dig himself into a small hole along the Tulip's path and covertly cast a sticky ground spell on its bottom as it passed over him. Following this, Sepia, stationed in a similar hole further down the path, would place several burst balls, extremely volatile explosives that had been banned from military use for being too unstable, along the Tulip's now adhesive underside, causing the tank and its riders to be blown up in the ensuing explosion.
Despite hinging entirely on the Tulip miraculously traveling directly over both of the holes that the siblings had submerged themselves in, the plan succeeded, launching the tank high into the air and dealing heavy damage to it. In spite of this, however, the Tulip's superior defenses allowed it to sustain the attack, allowing it to continue its campaign to free Red from its occupiers. Additionally, Rovert, who had accidentally gotten one of his gloves stuck on the sticky surface he had created, was hit directly by the explosion and severely burned. While Rovert narrowly managed to survive the explosion, he was incapacitated for the remainder of the battle and his soldiers were quickly defeated in the absence of his leadership, making him ultimately fail at accomplishing his objective.
Upon recovering from his injuries, Rovert and his troops participated in the Battle of The O, a decisive battle that marked a turning point in the war, wherein they fought against a portion of the Leazas Red Corps led by Rick Addison and Leila Grecni. Recognizing the futility of trying to fight the Red Corps directly, Rovert devised a plan to trap the enemy army by drawing them towards a small enclosure in the gorge where he had stationed the majority of his troops. After the group had pushed through enough of Rovert's soldiers to confront him at the center of the area, he would throw his cigarette onto the ground, which he had his subordinates coat in oil and gunpowder, to create a massive fire in the clearing. This fire would then burn his enemies, trapped in the small space between his soldiers, to death while he escaped to safety using a gasoline tank which he had secretly filled with water.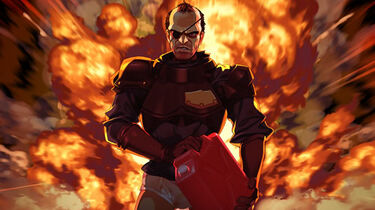 While the plan initially succeeded without issue, Rovert was interrupted immediately after starting the fire by Sepia, who he had earlier ordered to stay away from the his location. Sepia revealed that Rovert had accidentally taken the wrong gasoline tank with him to the battle, and that the one he intended to use to escape was in her possession. Realizing that his carelessness had endangered his sister's life, Rovert attempted to convince Sepia to use the tank filled with water to save herself, but was refused by his sibling, who insisted that he use it instead. With all other options exhausted, Rovert knocked Sepia unconscious and carried her body to safety, using up all of the tank's water in the process. With no means of escaping from the fire himself, Rovert was burned alive alongside the rest of his troops, dying content that he had managed to protect his sister from his own foolishness. The confusion caused by Sepia's sudden interference was taken advantage of by the Red Corps, who succeeded in exiting the clearing before the fire had grown to uncontrollable levels.
Personality and Appearance
[
]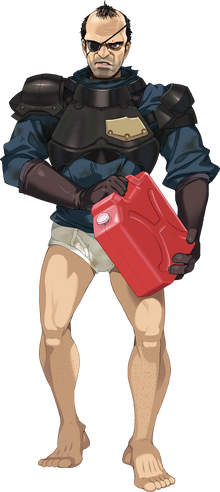 Rovert was a tall and lanky man with piercing red eyes and gruff, intimidating features. While mostly bald, he possessed small tufts of scraggly black hair on the top and sides of his head, as well as very thick eyebrows. Rovert's clothing consisted of standard light Helman armor along with an eyepatch which he wore over his left eye. Most notably, Rovert never wore pants, and instead chose to cover his lower half solely with a small pair of dirty white briefs. Rovert always carried a gasoline tank with him, which he made frequent use of across his various schemes.
An eccentric and illogical individual, Rovert had little in the way of common sense and often engaged in ridiculous behavior for no apparent reason, perhaps most obviously in his refusal to ever wear pants. These antics greatly impacted his career as a soldier, as they caused him to blatantly disregard orders for the sake of advancing his own plans, which were usually several times more dangerous and unreliable. Nonetheless, Rovert was disarmingly clever beneath his apparent insanity, and claimed to spend almost all of his free time reading books on strategy in order to sharpen his tactical ability and broaden his understanding of how to defeat his enemies.
Rovert's bizarre personality allowed him to approach problems from a unique perspective, which made him surprisingly effective at dealing with threats that did not adhere to conventional military combat. At the same time, however, this lack of common sense often made Rovert carelessly overlook very basic parts of his plans, creating crucial mistakes that a more rational person would have easily avoided. Both Rovert's unusual brilliance and his tendency to sabotage himself were best seen during his encounter with the Tulip #3, where, despite having never fought against anything at all like it before, he was able to maintain a level head and develop a strategy to effectively damage it, only to ruin his chances of victory after accidentally getting his hand stuck to the tank's bottom.
Along with his general strangeness, Rovert was also incredibly crass and prone to swearing incessantly. He maintained a particular affinity for the word "fuck", which he peppered liberally throughout his sentences. Rovert would also regularly make use of extremely graphic sexual threats in order to instill fear in both his enemies and subordinates, regardless of their age or gender. Contrary to this behavior, Rovert claimed to be entirely heterosexual, and stated that these threats and were not meant to be taken seriously. Rovert was not above using similar language when around his younger sister, even going so far as to claim to be aroused by the sound of her voice, but immediately stopped and apologized profusely after realizing that doing so made her uncomfortable.
Rovert had a very close relationship with his younger sister and direct subordinate Sepia Landstar. In stark contrast to the verbal abuse that he would dole out to his other soldiers, Rovert would never hesitate to declare his adoration for Sepia when in her presence, and became defensive and outraged whenever he perceived another person to be insulting or belittling her. Rovert was also extremely forgiving of Sepia, as he chose to console rather than scold her upon learning that she had been forced into leaking information to the enemy. When it became clear to him that either he or Sepia would have to die during the battle of Hoch Gorge, Rovert went out of his way to ensure his sister's survival over his own, stating plainly that it was his duty as the older sibling.
Abilities
[
]
Beneath his bizarre behavior, Rovert was a talented, albeit highly unorthodox tactician who was capable of crafting strategies in seconds as well as fluidly modifying them to accommodate new variables. Rovert's reckless and unpredictable personality allowed him to concoct plans that were extremely hard to anticipate and even more difficult to counter. This tactical ability was best displayed during the Leazas Liberation Army's effort to retake Red, where he was able to quickly create a strategy to destroy the Tulip #3 despite not knowing anything about it, as well as alter his approach to be more effective as he gained a greater understanding of the tank's capabilities, while the rest of his allies could do little more than panic. Recklessness also proved to be Rovert's greatest weakness, however, as he would frequently sabotage his own actions through thoughtless mistakes, which often led to plans that would have otherwise succeeded ending in failure.
In addition to his strategic knowledge, Rovert appeared to possess some amount of skill in the magic arts, as he was able to cast a sticky ground spell during his battle against the Tulip. While nothing beyond this is known about his magical ability, it is nonetheless unusual for an ordinary soldier to practice magic at all, making it a notable talent regardless.
Outside of his surprising talents for magic and strategy, the full extent of Rovert's capabilities as an individual are unknown. While he was never shown participating directly in combat, he is suggested to have been rather clumsy and inattentive, getting his glove stuck in a substance that he himself had created and overlooking the fact that he had taken the wrong gasoline tank with him to the battle of Hoch Gorge, despite it being central to his survival. These blunders, combined with his own preference for defeating his enemies through wit rather than muscle, suggest that Rovert was not a skilled fighter. Despite this, Rovert was also shown to have been rather durable, as he was able to survive and quickly recover from being hit directly by several high-powered explosives, implying that he may have been more formidable than he otherwise appeared to be.
Trivia
[
]
Rovert came in 6th place in the "Males" category of the Rance 03 Popularity Poll.
Rovert's character is heavily inspired by that of Trevor Philips, one of the three protagonists of the game Grand Theft Auto V, in terms of both design and personality. Additionally, Rovert's first name is "Trevor" spelt backwards while his last name, "Landstar", is also similar to the first word of Rockstar Games, the company responsible for the development of the Grand Theft Auto series. Finally, Rovert's unconscious portrait is tinted by a grainy orange filter and features the word "WASTED" above his body, in reference to the death screen used throughout the Grand Theft Auto series.
While Rovert's fate is left somewhat unclear within the story itself, with Rick and Leila simply noting that his screams grow fainter as they move away from his location, Yoidore Dragon, the script writer of Rance 03, confirmed his death in the game's development corner, where he is referred to as a "one-shot character" and is described as having been burned to death.
Rovert is voiced by Hoshi Hitori (星一人) in Rance 03, who also provides the voice for the character

Deucalion Hakobune

. According to Yoidore Dragon, Rovert's voice actor was instructed to read his lines as though he were a character in a hard-boiled foreign film. Yoidore Dragon also stated that Rovert's actor's performance was their favorite in the game.
Gallery
[
]
[

]