This article is for the 2013 remake. For the 1989 original, see Rance I.
Rance 01 - The Quest for Hikari
Rance01 -光をもとめて-
Ransu Zerowan – Hikari o Motomete

(c)アリスソフト Box art
Brand
Alice Soft
Release date
2013/09/27
Genre / Rating
RPG+ADV / 18+
Base price
¥5040, 4800
Voice
none
This game is a remake of the 1989 classic, the first Rance game ever made 25 years ago. The gameplay system, graphics and everything else was revamped (on a much larger scale than they were for Rance 02) and will be a product by itself rather than being a part of a compilation such as Alice's Cottage. 
Just like the original though, the game heavily features classic ADV-like interaction with the environment and characters (look, touch etc.) and 8-10 hours in length. 
According to AliceSoft, only one batch of DVDs will be produced and selling of boxed edition will be discontinued thereafter once stocks are exhausted. The DL version however will be on sale indefinitely.
The boxed edition can be considered something of a "limited edition" from a collector's point of view due to its limited availability, and some exclusive goods like a hint booklet and game cards will come with it.
The game received an OVA adaptation of 4 animated episodes, titled Rance 01: Hikari wo Motomete The Animation.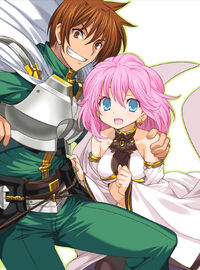 Rance
 is a brutish and perverted warrior that makes a living from several paid jobs he gets from the local
Keith Guild
in the town of
Ice
in the
Free Cities Alliance
, along with his relatively recently purchased and faithful slave
Sill Plain
.
One day, he receives a request to investigate the missing case of a noble girl from the majestic Kingdom of Leazas called Hikari Mi Blanc, who mysteriously dissappeared after atending a prestigious academy in the capital of the country. Upon realising that she's a cute girl, he accepts the job immediately and travels to Leazas along with Sill in order to find the missing girl, but he will soon find out that it's a case much deeper than it initially appears to be.
And so his Quest for Hikari begins...
Characters
Edit
Main Characters
Edit
Secondary Characters
Edit
Setting & Lore
Edit
Screenshots
Edit
System Requirements
Edit
CPU:Core2 Duo
RAM:1GB
HDD:640MB free space
Display:1024x768 Full Color
Audio:WAVEAudio/DirectSound compatible sound card
OS:Windows XP(SP2+)/Vista/7/8 Japanese Version
DirectX:DirectX 9.0c or better
DVD-ROM Drive for boxed edition