Rance 01: The Quest for Hikari
ランス01 光をもとめて THE ANIMATION
Ransu 01: Hikari o Motemete The Animation
Type
OVA
Episodes
4
Status
Completed
Aired
26/12/2014 to 24/6/2016
Producers
Pink Pineapple, AliceSoft
Studios
Seven
Genres
Fantasy, Hentai, Magic
Duration
26 min.
Rating
Rx - Hentai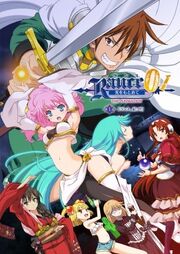 The anime adaptation of the 2013 remake of the 1989 AliceSoft adult PC game Rance 01. The animated version tells the story of the events of the very first game of the Rance Series in a shorter and more summarized hentai adaptation. Many events from the original game were not included and adapts the most fundamental parts.
It follows the first adventure of Rance in his quest for saving Hikari Mi Blanc, the daughter of a noble family of the Kingdom of Leazas that went missing. Travelling to the capital along with his faithful slave Sill Plain, he will soon find out that the case is much deeper than it initially appears to be.
Episodes
Edit
Characters
Edit
External Links
Edit
Community content is available under
CC-BY-SA
unless otherwise noted.