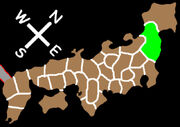 Oshu (奥州) is one of the provinces in JAPAN. To its north is Ezo. To its south are Sado, Saitama, and Kazusa 2000. It is under the control of the Dokuganryuu House.
Appears in: Sengoku Rance
Trivia
[
]
Ōshū was the short name for the area covering Mutsu Province (陸奥国) and Dewa Province (出羽国) of Japan during the warring states period.