Spoiler Alert: This page contains minor spoilers from the events of the games.
Don't worry too much about them but take it into account.

"
No, you misunderstand! I have absolutely no interest in peace! I just want to be a hero! By completing a difficult task, I will be hailed as a hero! I'll receive praise, compliments, and medals! And, with any luck, become popular with girls!
"

—Ogier Lott Stein, on what drives him as a knight.
Ogier Lott Stein
Japanese
オーギル・ロット・シュタイン
Romanization
ōgiru rotto shutain

(c)アリスソフト
Race
Human

Age / Birth
25 / GI0997
Sex
Male

Ht. / Wt.
186cm / 82kg

Status
Alive

Class
Knight
World
The Continent
Affiliation
Leazas White Corps, Leazas

Level limit
53+

Skill levels
Sword Combat Lv1 (?), Strategy Lv1 (?), Poetry Lv1 (?)

Games

Appeared in
Rance X
Ogier Lott Stein is a captain in the Leazas White Corps. While an excellent and well-rounded soldier, he is widely disliked by his colleagues for his insufferable personality.
Excelling not only in physical combat and strategic knowledge but also in academics and literary arts, Ogier graduated from the Leazas Military Academy at the top of his class and earned a position as an officer within the Leazas Army at a young age. Having been raised strictly by his parents to live his life by the idiom "Honesty is the best policy", he made it his personal duty to always speak to others with the upmost sincerity. This inadvertently caused him to develop a tactless and overbearing personality, as he would freely voice both his immense pride in his abilities and his belief that he was deserving of unending praise and material rewards in recognition of his greatness, which irritated his fellow soldiers to no end. Over time, Ogier became infamous within the Leazas Army for being incredibly difficult to work with due to his unfiltered ego, compromising his opportunities to advance past the rank of captain and earn the recognition and adoration he sought.
During the events of Rance X, the major Human territories of The Continent were invaded by the forces of the Monster Army, which began to steadily overtake them with overwhelming power and ferocity, beginning the world-changing event that would come to be known as the 2nd Dark Lord War. At some point during the war, Ogier was recruited into the Dark Lord Extermination Squad, an elite group led by Rance, the leader of the United Human Army, composed entirely of humanity's strongest warriors. Shortly after his recruitment, he was called to meet privately with Rance with the intention of evaluating whether or not he was too popular with women for Rance to be willing to work alongside. Upon meeting Rance, Ogier immediately expressed his profound gratitude for being given the opportunity to fight at the forefront of the war and asked to be placed on the most dangerous battlefields available. Initially mistaking this enthusiasm for chivalric valor, Rance was soon shocked to hear the knight clarify that he desired to take part in such life-threatening battles solely for the praise, accolades, and attention from women he would receive in response. This shameless display of greed and pettiness was enough for Rance to conclude that women would not find Ogier attractive and allow him to remain a member of the Dark Lord Extermination Squad, though not before violently reprimanding him for attempting to make romantic advances toward his female companions.
Sometime later, Rance encountered Ogier in a public park in the vicinity of Rance Castle, the United Human Army's central command. Ogier revealed that he had been attempting to pick up women in the location but had thus far been completely unsuccessful, causing Rance to attempt to do the same as a way of showing off. Rance's plans were steadily undermined as each of the women who passed through the park happened to be among those that personally disliked him, such as Atago McCart and Pastel Kalar, causing him to get rebuffed at every turn. Rance's poor performance pleased Ogier, who expressed happiness to learn that the man who stood at the top of the world and was surrounded by women was no more naturally popular than he was. United by their combined failures, the duo then badgered a passing Rick Addison into trying to ask a woman out to tea, planning to take solace in watching him flounder trying to do so. To their mutual frustration, Rick circumvented the process by selecting his fiancée Leila Grecni as his target.
Personality and Appearance
[
edit
|
edit source
]
Ogier is a tall young man with a lean muscular build, chalk white skin, quaffed silver hair, piercing blue eyes, sharp, angular features, and no visible eyebrows. He is noted to be somewhat strange-looking by Rance, who mockingly claims that he would be mistaken for a statue were he to stand in an open space without speaking. Ogier's clothing consists of the standard armor worn by knights of the Leazas White Corps consisting of white and silver-colored plate mail with the emblem of the Leazas flag on the left pauldron, a black tunic with yellow lining, a long-sleeved white undershirt, and matching sets of brown boots and gloves.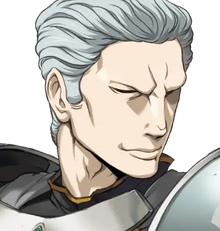 Raised from childhood to adhere to the creed of "Honesty is the best policy", Ogier is an unflinchingly forthright individual who is utterly devoid of any feelings of shame or modesty. He takes great pride in his prestigious background and classical education, and speaks exclusively in overwrought prose to project an image of a cultured gentleman onto himself. While this is somewhat effective in the short-term, with those who only briefly interact with him assuming him to be a serious and dutiful knight, it inevitably only serves to make him seem more obnoxious when his true personality comes to light. In particular, he is outspoken about the fact that he has no interest in things such as peace or protecting his country and only became a knight of Leazas for the sake of fame, creating a surreal contrast between the selfishness of his words and the grandiose way in which he speaks them. Though Ogier's behavior has left him exceptionally disliked by the rest of the Leazas Army, he staunchly refuses to change his ways, claiming that he will remain true to himself and his desires no matter the adversity he encounters in response.
Among the numerous rewards he hopes to achieve from being a knight, Ogier is especially preoccupied with gaining attention from the opposite sex. He believes that his esteemed background should make him naturally popular with women and is prone to making sudden and unwarranted advances toward every female he encounters in an effort to make this delusion a reality, inevitably with poor results. Ogier is deeply frustrated by this lack of success, and spends the majority of his free time fruitlessly attempting to attract random women off the street in a desperate ploy to get a girlfriend. His frustration also causes him to easily feel resentful of men with romantic partners, making him no less of a nuisance to work alongside for either gender.
Throughout most of his military career, Ogier was deliberately kept from meeting the warrior Rance by order of Queen Lia Parapara Leazas, who believed that his uncompromising fixation on finding a girlfriend would cause him to get killed by Rance, who desires to have every beautiful woman in the world for himself. The two were finally made to meet during the 2nd Dark Lord War after Ogier was recruited to serve under Rance as a member of the Dark Lord Extermination Squad. Despite taking umbrage with his immediate flirting with his slave Sill Plain and subordinate Arlcoate Marius, Rance deemed Ogier to be too unpopular to pose a threat to him as a man and allowed him to continue working under him on the condition that he stay away from his women. While Ogier is very grateful to Rance for making him a part of the Dark Lord Extermination Squad, as he believes that his association with it will improve his reputation, he is openly envious of him for being able to live out his dream of becoming a celebrated hero surrounded by women. His jealousy lessened somewhat after he observed Rance's poor relationship with several of his female companions, which he chose to interpret as proof that even a hopelessly unpopular person like himself could attain a harem of women. Outside of these conflicts, Ogier and Rance possess an innate understanding of one another as a consequence of their similarly imprudent personalities that enables them to easily find common ground when not in competition with each other, such as when joining forces to tease Rick Addison.
An outstanding man with a wide range of talents, Ogier's skills are recognized by all who know of him, with a common sentiment being that he would be the ideal knight were it not for his unpalatable personality. During the 2nd Dark Lord War he had succeeded in reaching the very high Level of 53, which is presumed, but not confirmed, to be his Level Cap; granting him a significantly greater amount of potential as an individual than the majority of The Continent's population. This high level particularly stands out in comparison to the rest of the Leazas Army, where it surpasses the level caps of almost all of its highest-ranking officers, including those of his direct superiors Ex Banquet and Haurein Province.
In combat, Ogier utilizes the well-rounded style of swordsmanship used by most knights of Leazas, wielding a shield alongside a lightweight long sword to optimize both offense and defense. He possesses both the Sword Combat Lv1 and Strategy Lv1 Skill Levels, making him an excellent fit for the White Corps, which specializes in strategic warfare in addition to direct combat. Ogier proved his talents during his time at the Leazas Military Academy, where he graduated at the top of his class in all subjects.
Outside of combat, Ogier is noted to be gifted at a variety of scholarly pursuits. He is stated to have excelled in the fields of science and classical literature throughout his schooling, making him unexpectedly well-read and knowledgeable about a breadth of topics far outside the realm of the military. Most notably, he possesses the Poetry Lv1 skill level, giving him an aptitude for rhythmic verse. Ogier makes frequent use of his talent for verbal expression when conversing with others, where he makes liberal use of flowery prose, and will often recite impromptu love poems when trying to woo women.
Ogier came in 39th place in the "Males" category of the Rance X Popularity Poll, tying with Houjou Souun and scoring astonishingly high relative to his insignificant role in the game.
Ogier is part of a group of characters created for Rance X referred to by the development team as "The Hidden Geniuses of the Continent". These characters were designed by committee, with TADA, the director of the Rance Series, first conceiving of their name and national affiliation followed by Orion, the lead artist of the Rance series, creating their design and finally Dice Korogashi, the lead scenario writer of Rance X, developing a personality and backstory derived from this information.
Ogier's name is likely derived from TYPE-HOGIRE, a model of mecha featured in the Armored Core series of video games. His statue-like appearance, talent for poetry, and obsession with becoming famous all seem to reference Ogier the Dane, a fictitious knight spoken of in many French epic poems.
According to Orion, Ogier was designed with the intention of being a "statue-like man", with his appearance deliberately invoking a sculpted statue of a person. Orion later drew a picture depicting a sculpted bust in Ogier's likeness for fun, taking the character's initial design concept full circle.
Community content is available under
CC-BY-SA
unless otherwise noted.