"
I'll try to believe in you...
"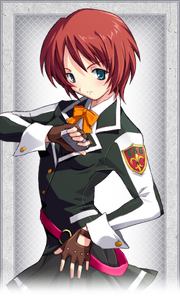 The executive officer of Sensouji School. Particular about discipline and thrift, she's known as "Iron Blood Kongoumaru". She has some trauma about her family name.
Trivia
[
]
Her trauma of her surname which she got teased. Her surname is Yakiniku which is "Grilled Meat" resturant. She was a child so since then she doesn't say her surname
"Tekketsu no Kongou Maru." is her nickname which it means "Iron Blood Kongoumaru"