Notes on the Walkthrough
[
]
This is a walkthrough of solving the game itself. It is not meant to cover the story or how to unlock every single CG/event. For how to play the game, see the Game mechanics section.
Introduction
[
]
Start a new game. Long story short, Leo is whisked away to Squid Paradise in order to sort of fight against Ika at the request of Vanilla and Kusushi. So we go storming into his palace. Bad idea if you ask me.
You'll fight a Squidman (イカマン) which shouldn't pose any trouble at all, even for Leo alone. Just keep attacking and he will go down. Soon as he does so, Ika himself will show up and confront Leo. I suppose the change of music cues you that this is a boss battle, which by the way, can't be won. As Ika has 15,300 HP, so... Attack him once, blink and then you'll be dead.
He will then go on his merry way and have his way with both Vanilla and Kusushi before we can get away to regroup. Seems we shouldn't fight directly with brute force. There are other methods of course... If Ika can't select a bride, we would be going against him, right? So that's our new task, capture every single Girl Monster on Squid Paradise and go against the big guy instead.
When you are presented with the map of the island you'll have 6 options available to you:
イカ御殿 (Ika's Palace): Don't go here, seriously.
船の甲板 (Ship Deck): You can't really do much here yet. Though you'll find Pluppet here later on.
近くの森 (Forest): The first dungeon and our current objective.
謎の巨大石像 (Statue of Freedom): The second dungeon, though you can't go in yet.
岬 (Cliff): The third dungeon, though you can't go in yet.
砂浜 (Beach): The fifth dungeon, can't go in yet.
Dungeon 1: Forest (近くの森)
[
]
Task
Tame all three girl monsters before the 7th day, and visit the dungeon for one more time to unlock the next dungeon.
Girl Monsters
KyanKyan (きゃんきゃん)

Kyan Kyan is easy to capture. As soon as you go in, you should see her hear even a bit to your northwest. Since she can't attack at all, you should have no trouble whatsoever in capturing her as she only has one heart anyway.
I suggest you simply head straight to her, once you have her, fighting should be a bit more bearable due to the extra HP.
Remember you must H KyanKyan first before any other Girl Monster.

Maid-san (メイドさん)

After you have KyanKyan, from the start head east through a small passage that should be blocked by an enemy. Turn south in the other side and you should be able to see her heart almost at the edge of the screen.
She can actually hurt you, so if you want, use KyanKyan's second ability before you tackle her in order to have a high defense ready for her. Plus, she can heal herself.
Defeat her and... What's that? She got away. Walk around and enter a random battle. Her heart event should re-appear north of the farm house, approach it for an event. Afterwards she can either fight you randomly or you can look for heart event south of the farm house. Re-defeat her and rope her this time. One heart as well.

Yamorin

(やもりん)

You need both Maid-san and KyanKyan for this one. From where you fought Maid-san, head east along the south border of the farm and go around it form the west. You should come across a poison pool you can walk through thanks to Maid-san. In the heart event you'll meet her, but after defeat she will simply run away.
Walk through the mushrooms and you will lose both KyanKyan and Maid-san before you reach her, but Kira will show up and restore the girls to you. Fight Yamorin ahead of you once more and rope her. She has four hearts if you defeat her with Leo though...
Other Events
The Loyalist Hanny subquest - After you capture Yamorin, if you have Maid-san in your party, go inside the house to find a Hanny named "倉之助" who informs you of his 46 ally's attempt to defeat Kira the Devil. Afterwards, loyalist hannys will appear in various dongeons after midday, and will attack you (they mistake you as an ally of Kira). Once you have defeated all the loyalist hannys (whenever you revisit the house with Maid-san in your party, you can talk to 倉之助 to find out how many of his allies are left), talk to 倉之助 again to dissuade him from fighting Kira. He will give you three "Cheat Items", that raises all stats of the equipper by 50.
The first signature quest (Tree of Spring) from

Youko

can be completed here. Talking to a wrong tree will result in a fight that provides decent EXP and Gold, and you can talk to any wrong tree an infinite number of times to fight them until you found the correct tree.
Dataslycer: I actually recommend not completing this quest since you can harvest trees for gold later on in the game for Plupet's items.
Dungeon 2: Statue of Freedom (謎の巨大石像)
[
]
Task
Tame all three girl monsters and defeat Irina afterwards. Obtain the ladder found inside the dungeon so that you can access the 3rd dungeon afterwards.
Time limit
Irina: will capture one remaining girl on day 12 (8 am)
Count Squid: marries one remaining girl on day 14 (6 am)
Girl Monsters
Sketch (スケッチ)

Along the western side of the dungeon you can find a star marker that will put you in a fight with a cartoony-like dog that seems to be badly done in paint. You can't really defeat it, so simply enter the fight and run away. Sketch will now show up as a random encounter, though there's also a heart event of her along the eastern side.
Be sure to see her event after you capture her (the ! inside the star at the night screen) so you can go past the dog later.

Sexy Knight

(セクシーナイト)

In order to capture Sexy Knight, you must first have some "flash bombs" (発光爆弾). They can be created with Kusushi, but one will appear inside the room with the giant scribble dog, and another along the western side.
To find Sexy Knight, you must go into the darkened sections of the level (any section that is dark). You can find a heart event of her along the southern section or she will randomly fight you.
During the fight, be sure to use the Flash Bomb so you can try to rope her afterwards, otherwise she will just run away.

Sour

(サワー)

See those roads along the border of the stage? Every time you enter them you will fight her (these roads can only be used counterclockwise). It is possible to capture her before the fourth encounter, though she has a lot of hearts. Luck with kyankyan's stun, and with ropes.
Otherwise, after your 4th fight with her, Valkyrie will show up and make her join you.
Note that since there are only three highway sections in total, you need at least two days to capture her with the normal method.
Other Events
You can find the fairy

Youko

in the water fountain by the southern edge. She makes a request of you to get the autograph of a tree back in the first dungeon. You need to make some "Sign Paper" from Kusuhi and then speak to the tree in the northeast section of the Forest. Return for your reward, which is a whip that increases Leo's attack a bit. (This note is also recorded in the above dungeon)
After a couple of events in Ika's Palace (two it seems) and after Irina shows up, you will be able to fight her near where the drawn dog is (it's a heart event). Fight and defeat her (do note if she gets any Girl Monsters she will be stronger) to obtain a key, which you can use on a door that's past the drawn dog (have Sketch and did the star night event in your party to be able to go pass it). You can find a ladder here which will allow you access to the 3rd dungeon later on. You can also get a rare item with the key in the bottom right of the map, which makes sure the item bearer wouldn't get sick.
Dungeon 3: Cliff (岬)
[
]
Task
Tame all three girl monsters and recruit Vanilla into your actual party. Inspect the bookcase on the upper level after visiting the pyramid to find the answer to the riddle so you can access the Pyramid.
Timelimit
Irina: will capture one remaining girl on day 19 (8 am)
Count Squid: Wedding on day 21 (6 am)
Notes on the Dungeon
You will find breakable walls here for the first time. You need any Girl in your active party with the Wall Breaker trait. Sexy Knight is one, and Vanilla who you get here is also a good candidate.
You will also come across Yin-Yang doors, which require you to buy keys from Pluppet (500g each) to open them. Once you open a door, they will remain open forever. It can be useful to buy more keys if you have money left, there will be Yin-Yang doors in other dungeons as well.
Problem with Irina! If you are experiencing problems with Irena coming prematurely (pun intended), here's some advice. Wait until the full 14 days have passed after full completion of the past two dungeons, and enter the Cliff for the 1st time on a Sunday (Kanji symbol representing the date on your screen should look like a pink square with a line through it). Then complete the dungeon in the following order (details on girl locations are noted later in the wiki):
1st Day:
(Save) Capture Vanilla. Avoid fighting monsters if possible, to prevent potential sicknesses as you proceed further into the dungeon. Challenge Konte for the first time (sometimes you can get her to appear as a random encounter in the graveyard, try to do this to prevent loosing one of your main fighters when following the path outlined later in the wiki). If it is still early in the day, try to fight the Freemans (outlined under Yama no Sachi). Capture KameKo (as outlined in her section).
2nd Day:
(Save) Before entering the dungeon buy the Magic Rope from Kusuhi (looks like white glowing rope). Now enter the Dungeon, and make sure to defeat the Freemans (Regardless of the day you only need to defeat a sum of 2 so any previously defeated Freemans will be included in this sum). Head to Pluppet (Assuming you've been managing your money correctly you should have about 1500+ gold, if you don't then go defeat some monsters and earn it!) then buy his #7 paper, and 2 keys. It is IMPORTANT you now go back and unlock both Ying Yang doors. Afterwards, feel free to go and capture Yama no Sachi (I strongly recommend you bring some of the stronger rope, as you will need to capture her on the first try).
3rd Day:
(Save) DO NOTHING IN THE MORNING! Head directly to the dungeon! (If you are experiencing problems with Irena appearing at times which do not correlate with this wiki, this is the only solution I was able to find.) Plan your route by using the mini-map. Head directly to the cemetery (any detours can cost you valuable time, this is why it was necessary to unlock the Ying Yang doors to secure a faster route). If you get really close to Konte's Heart Marker and Irena still appears, don't freak out. Just re-load the day, and head back to the cemetery. Konte can still be activated with a random encounter, so it's just a matter of trial & error. The issue is that Irena will appear at 8am, so assuming you didn't waste anytime you should be able to get Konte before 8am, successfully capturing all 3 girls.
4th Day:
Head back to the dungeon, wrap up any loose ends, defeat the boss, defeat Irena, read the book shelf. Dungeon Complete.
Girl Monsters
Vanilla

(バニラ)

Vanilla will be the first heart event you see here, she's almost at the entrance. Simply approach and fight her. There's no need to rope her and she will not on end the day either, so you can get two Girl Monsters if you plan ahead of time.

Yama no Sachi

(山のサチ)

You need to fight a couple of Freemans (the guys with magnets) in random battles until Pluppet appears at the southern edge of the map, right by the stairs that lead into a glade. Speak to Pluppet and buy the paper with the 7 on it for 500 G. When you go upwards to the glade, the event where Leo reads the note will play. After that, if you fight a random battle Yama no Sachi will appear in the event and run away and you won't be able to fight her that day. Go to the end of the glade to find Yama no Sachi in the heart event, simply defeat and rope her. Note: You can get a spray can and using it before going upwards to the glade to avoid the random battles so she won't run away.

Konte

(コンテ)

Konte is a tricky one. She can be found in a cemetery along the right side of the center of the map. It's south of the two Yin-Yang doors. As a warning, if you walk into some places here you will lose a Girl Monster at random. From where you enter, follow the next set of directions to minimize cassualties:
North, East, North, North, North, West (You'll lose one here), North, North, West, North, West, West. She also can show up in a random battle.
Even after you fight her, you'll notice your ropes don't work at all (though you must still use one). Next day, speak to Kusuhi who will be able to synthesize a new kind of rope for you. Get one or two of these ropes and return to fight Konte and use them (Only one should suffice).

KameKo (カメ子)

Head south all the way and then east. She's at a four-way cross, right in the middle. However, she will run upon defeat (You need to rope her before she runs away). If you defeat her from the south, she will just run away and you pretty much won't be able to capture her. If you head back a bit, you should see a breakable wall that will lead to her as well, but from the west side.
Defeating her from here will make her back away into a dead-end, where you can capture her.
Other Events
Near the cemetery you should find a set of stairs going up. At the top you'll face your first boss, which by the way, can send one of your Girl Monsters away for the remainder of the day, so be careful. You should then fight Kaminari Daikou (the heart event). She's a Girl Monster, but you can't capture her now. You can defeat her in this encounter, but this changes very little story wise. Be careful though as you will probably lose and be saved by Valkyrie, you'll be left with 1 HP. Further down this path, you'll find the ghost of one of those rats with female underwear. In order to pass through, you must have Konte in your team (not necessarily active) or in the case Irina got her, the rat will just disappear. You will then fight Irina, who guards a bookcase with the answer to the riddle of the sphynx of the pyramid, so you can enter the 4th dungeon.
After defeating several Freemans (The guys with the magnets), Pluppet, the shop keeper will appear on the southern edge of the dungeon, near the glade where you can find Yama no Sachi. (After some events, Pluppet will also show on the Ship's Deck)
Dungeon 4: Pyramid (ピラミッド)
[
]
Task
Capture all three and solve the mystery of the Pyramid.
Timelimit
Irina: captures one girl on day 26 (8 am)
Count Squid: Wedding on day 28 (6 am)
Notes on the Dungeon
You will need to get some tablets in order to further progress in this dungeon. Then, you will have to go to this room full of eyes with a certain Girl Monster in your party in order to open up a mirror that you can walk through. For story purposes and Girl Monster taming, you only need 3 mirrors unlocked.
For the first event, only Maid-san is applicable. In the second event, Sexy Knight or Sketch can be used, and in the last event it's Yama no Sachi or Kameko. Do note the girls must be in your party (active or not) and in their adult form. And in the case of the second and third time, the game will use the Girl Monster who has the highest affection level for you. (Although, if the more affectionate girl is a child, then remove her from your party. Third Tablet should now ask for the less affectionate girl.) I had both Sketch with higher affection and Sexy Knight with lower in party but it used Sexy Knight so it doesn't seem to be true?
In order to even begin finding them, you must speak with Mummy Man. From the entrance you can head east into a set of rooms and see the star event. Walk once more to the staff you see there and select the fourth option (水をかけてみよう). (but you can actually do it later, after finding the first tablet) After that, head south a bit an enter another room full of eyes on the wall and check the star event. The tablets necessary to progress are found as follows (in order): (After getting a tablet, you must return with Mummy Man and if you have the necessary Girl Monster, into the eye room)
From the start of the dungeon, head west and you should find a locked door with a lever nearby (you need to see event in the eyes room to use it). Activate the lever and head inside the room. You need Vanilla or Sexy Knight to break a wall here so you can find the first tablet. Return to the Mummy Man to have it deciphered (Which reads that a long brown-haired girl needs to do a striptease, in this case Maid-san).  Go to the blue star event in the Room With Eyes, then the north-west mirror on the map will be activated.
After going through the first mirror, head north and west a bit past the mushrooms and enter the room there. Trigger the lever and head into the right side, break the right wall to find the second tablet. The tablet, when deciphered, reads that to open the mirror, a girl that has a beret-style hat and can draw or has big breasts needs to masturbate and climax(Sketch or Sexy Knight). The south-west mirror will now be available.
After going through the second mirror, activate the lever by the bridge (see next point) and walk inside the room. From where Kira is (the blue star), head to the other side into the room to find the third tablet. This is the last tablet you need for clearing the dungeon.  The third tablet specifically wants Yama no Sachi or Kameko to show her vagina.  After triggering the last eye-room event, you can enter the north-east mirror.
In the area you end up by taking the second mirror you will find a bridge leading to a lever. You can only cross this bridge with Leo, any flying Girl Monster (Konte and Sour) or Girl Monsters in kid form. So send everyone else back home and hit the lever; don't worry, Kira is around the corner inside the nearby room and he'll restore your party at the expense of lowering the Girl Monster's affection by one point (but be careful, if you have the quest from Youko he will sign autograph instead and you will end up with flying girls and kids that you crossed the bridge with, the tablet is close though so you might be able to get it and use return wood before you are killed).
There's another bridge in the area of the third mirror. Just walk and fall down. When you come back up there should be a star event with Irina where she opens the nearby door for you. Though she snatched the fourth tablet before you could... (You must have captured all three Girl Monsters first it seems) Head back to the Eye-room to find out they are already trying to trigger the 4th mirror, though it doesn't seem to work. After leaving the dungeon a scene will play with Irina and TenTen which allows you to explore the rest. The 5th dungeon should be open after this though.
Girl Monsters
Nekomatamata (ねこまたまた)

You can find a star event with her right after going through the first mirror where's she killing all these Bill Gates. She will randomly fight you from there on, and a heart event will also show up by a set of stairs going up in any of the areas after you've seen the third eye-room event (Yama no Sachi or KameKo's).

Chou-chin (ちょうちん)

From the start of the dungeon, go a bit east and take the stairs up to the find a star event with Chou-chin. The next you enter the dungeon you will see an event of Chou-chin being tortured in what seems like a dungeon down in Ika's Palace. She will afterwards show as a random battle, or a heart event in the small room south of the eye room.

Frozen (フロズン)

She can fight you randomly at any time, however, even if you defeat her you won't be able to rope you can rope her and you will get out of dungeon, but she will run away before the contract and you will lose the day so run away if you find her before you get the dog. The dog is in the area accessible only by taking the third mirror.
In the area of the third mirror simply head west and you should see a star event where the dog (which sounds horribly cute by the way) is. You can then wait for Frozen to show up at random or go looking for her heart event in a room on the east side of this area.
Other Events
You can find

Youko

here as well, north of where Mirror Man is. This time she will ask for Kira's autograph. You can find him by the first section of the dungeon (Kira will disappear from the map for the rest of that day and he won't restore your girls that you've kicked off in order to cross the first trap bridge), or head back to the Statue of Freedom, You reward is upgraded Whip for Leo.
Dungeon 5: Beach (砂浜)
[
]
Task
Capture all Girl Monsters and inspect the temple. (Do note Umi no Sachi is not an actual requisite. She's a "secret character" of sorts, and even if you don't capture her, neither will Irina)
Timelimit
Irina: will capture Chappu Chappu or Zukappa on day 33 (8 am)
Count Squid: marries Chappu Chappu or Zukappa on day 35 (6 am)
Notes on the Dungeon
You'll be doing some swimming in this dungeon, and all three swimming characters are also found in here (Umi no Sachi, ChappuChappu and Zukappa), so be prepared for that.
Above water level, you can travel using the boats, but that's about it.
Girl Monsters
Kusushi (クスシ)

She can be found in a small island along the center of the above-water level. Defeating her will be enough for her to join you, and it won't end the day either.

ChappuChappu (ちゃっぷちゃっぷ)

You can see her heart event right by the entrance. She won't fight you unless you have less than 50% of health though. If you fail to rope her, she will just randomly fight you from there on, though she's still picky about your HP.

Zukappa (ズかっぱ)

Found along the west side (near the ramp going underwater) after 21 o'clock. Do note this is merely a star event (i.e. no battle), and afterwards she can be found along the east border, or as a random encounter from there on regardless of the time. (Do be very careful when you are that late in a dungeon)

Umi no Sachi

(海のサチ)

Umi no Sachi is not necessary to complete the dungeon, and she can't be captured by Irina either. In order to capture her, you must be able to go underwater first of all. Next, there's a temple along the north side, with an entrance into it along the north side as well. You will probably be pushed back by a current of water.
In order to go through, your currect active party must consist only of Leo and Girl Monsters in kid form (so you could be Leo and 1 to 4 kid Girl Monsters). And of course, one of them must be a swimmer. If you can, time yourself with Nekomatamata's second running away, as that will allow you to H two girls on the same. Alternatively, if you have any of the Kindergarden Hats (the orange safety helmets), you can equip them on kid Girl Monsters to keep them that way as long as you wish.
Once you've passed the water current you can switch out kids for adults if you have them in your reserve. Fight and rope her. Try to defeat her quickly, as it's rumored she can run away from battle.
Other Events
To unlock the next dungeon, you must go underwater and fight Irina. Then check the star event south of the battle to make the four bosses that are also underwater appear. Defeat them so you can go up to the temple and find the black hole on the other side to end up inside the temple. The portal will not appear if you haven't caught all three girls. Walk up to the first heart event and you'll fight Kaminari Daikou. She'll wipe you (again) and Valkyrie will save you (again). So walk up to the next heart event and you'll fight an Octoman (remind you you should have 1 HP). You can defeat Kaminari Daikou, but you won't be able to capture her in this encounter. This portion where Valkyrie was supposed to be incapacitated by Kaminari Daikou will be changed to a different scene involving the woman killer in the forest.
Dungeon 6: Foggy Forest (霧の森)
[
]
Task
Capture all three Girl Monsters (Hazure Onna doesn't count) and defeat Irina.
Timelimit
Irina: captures one remaining girl on day 40 (8 am)
Count Squid: Wedding on day 42 (6 am)
Girl Monsters
Magician (まじしゃん)

You'll witness three small events where she stalks Leo around before she will finally confront you. If you don't rope her successfully after this fight, she'll retreat to one of several random places on the map (usually along the western edge), so check your map for any heart events.

Itamashii

(言霊)

There's a cave along the western border of the dungeon (and with every step you'll take damage from here on onwards, so be careful). Make your way around it until you surface on the other side. By this point you should have already seen a poster of her in a blue star event, if not, you might find an event like that in here. Otherwise, her heart event should be here. Defeat and rope her.2

Hebi-san (へびさん)

You can fight her randomly, but simply run away as you can't capture her. After you encounter her at least once, head into a winding path along the northeast section of the map, where at the end you'll find a star marker for an event with Irina, Hebi-san and the flying baby from Ika. Afterwards, you will be able to actually capture Hebi-san when she challenges you.

Hazure Onna

(はずれ女)

Take note of Kira's warning, you don't want this... thing. She's not required for anything (not for the Harem ending, Irina won't capture her at all, etc.) and is merely there to make your life hell if you do capture her. If you must, she's at the north side, behind the event where Kira warns you not to do it... (Do note at the end of the Omake Dungeon you can find an item to... supress her bothersome qualities like forcing herself into your party and doing nothing)
As a final warning: Don't. Just... don't, let the badly-drawn girl be herself and walk away...
Other Events
When you approach the large bulb on the north side (which also blocks your path to Irina), you won't be able to actually damage it (well, you can, but it'll just regen all back). Run away and in the main area of the dungeon (the area surrounding the small pond at the center) you can find four vines along the walls. Inspecting them will get you into a fight with them. Defeat all four of them to negate the regen abilities of the boss. (In order to attack the roots you need to purchase an item from Purupetto. 秘密情報10 I believe. Without having read the item, approuching the vines just gives a brief monologue)
After capturing all the Girl Monsters, you can find Irina at the north side past the boss mentioned above. Defeating her will unlock the next dungeon.
Dungeon 7: Great Wall (万里の長城)
[
]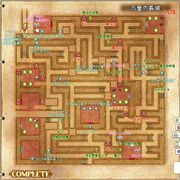 Task
Capture all 3 Girl Monsters and help Irina obtain the Squid-slaying weapon.
Timelimit
Irina: captures girl on day 47 (8 am)
Count Squid: marries remaining girl on day 49 (6 am)
Girl Monsters
Harimao

(はりまおー)

Harimao can be found in a room that is practically to the east of the entrance, but on the lower level. You won't be able to fight her at all unless you have a sick character in your party (That's the red face). Defeat and rope her.
Don't worry, as soon as you enter the fight, your sick girl(s) will be recovered, so they'll be healthy again.

Touko-chan

(とっこーちゃん)

You'll find Touko-chan in three different points of the dungeon. She'll be on your way as you try head south through the dungeon, so there's no real way to miss her. In the first event you won't even fight her at all. The second time she will probably run before you can beat her. It's only at the third time that you can actually defeat and try to rope her. The third event is along the southern edge, a bit north from the room that has Sulphur.

Sulphur

(サルファ)

You can fight her randomly during the night, but you can't capture her.  In order to capture her, you have to find her inside a room at the southeast corner of the dungeon during the day. Defeat and rope her.
Other Events
At one point or another (past the first YinYang Door, in a blue star event) you will trapped inside a prison-like area of the dungeon without all your Girl Monsters. Look around for a flight of stairs up and check the star event to make a break for it with Irina. Follow the only path available (there are no enemy encounters) until you find another blue star, which will send you back to the prison inside a room you couldn't enter before. Take a couple of steps inside and you will eventually leave the dungeon. (Your lineup will be wiped, so be sure to set Girl Monsters back in your party, and you will be stripped of all "Trees of Return" (The little twigs that warp you out of a dungeon), though the next you go in the dungeon, you can find a star event by the entrance with them back).
When you come back, head to the center of the map where you'll find a warehouse that's being guarded.  Defeat it and go inside, where you'll see three stars.  It does not matter which one you pick, as you will get either a Cow Killing Naginata or a Watermelon Splitter Naginata.  You will automatically trigger an alarm and fight a Kaito Clone before being forced to leave the dungeon.  Afterwards, you will see an event where Irina apparently obtains the Squid Killing Naginata.  Enter the Great Wall the next day and when you take a step you'll see the event of Irina charging Ika's palace, but Battle Note lures her into a trap and Irina gets captured.  However, thanks to that, the wedding cake was destroyed due to the battle, and the ceremony for the 49th day is delayed.
After leaving the dungeon (of course, after the event of the point above has passed), Kraken will show up in your home and demands that all your Girl Monsters are turned over to save Irina. You have two choices: Accept (交換に応じる) or Decline (交換に応じない). Unless you are eager to see a Game Over screen and end your game, be sure to decline. That way you can head into the 8th dungeon.
Dungeon 8: Volcano (火山)
[
]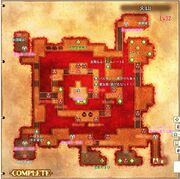 Task
Capture all three Girl Monsters.
Timelimit
Irina: no capture
Count Squid: marries Battlenote on day 56 (6 am)
Notes on the Dungeon
Starting off, you won't be able to use your items, map, or Return Branches. There are three pentagram-like points which blocks them along the corners of the map (sans the southeast side). In each of them you'll fight Kaminari Daikou, though this time you can actually beat her. Simply touch the devices to disable them. You'll also need a wall-breaker girl in order to reach some of them. Do not bring Frozen in here for she will collapse when you get to the main area of the volcano.
Here are the respective penagrams and what they seal:
Southwest (Return Branch)
Northwest (Map)
Northeast (Items)
This is one of the best, if not the best, place to forage for alchemy ingredients for Kusushi since the first five forage points at bunched up in the northeast corner and the others aren't too far from each other. Also you get a lot more from each forage in this Dungeon.
Girl Monsters
Valkyrie (バルキリー)

As you leave the entrance tunnel, simply walk a few steps and then turn around. Her heart event should have popped up there. Defeat and rope her.

Kaminari Daikou

(雷太鼓)

You'll find a heart event on your way west from the start, defeat her and her heart mark event will appear at the Southwest pentagram (the first one you will come across once you break the wall). After defeating her she'll appear at the Northwest pentagram (again, after breaking the wall).  She'll finally appear at the third pentagram located at the Northeast.  She will automatically be captured upon defeat. (It is advised that you deactivate the third pentagram FIRST, then backtracking and deactivate the first and second pentagrams)
Battle Note (バトルノート)
She's at the top of the small mountain-like place in the center of the map. Do note that every time you touch an enemy here (the enemy markers, random battles don't count, and this only applies for the markers in this island), the flying baby will come and take care of one of your Girl Monsters, sending them back home. A way to avoid this is to use Stealth Sprays so that you can bypass forced battles.  After defeat she'll automatically join you.
Dungeon 9: Ika's Palace (イカ御殿)
[
]
Task
Save Irina and defeat Ika.
Notes on the Dungeon
After you enter this dungeon, Irina will be put inside this weird capsule in Ika's palace and she will start undergoing a transformation into a Girl Monsters. From here on, every time you ENTER A DUNGEON (so spending all day foraging and what not doesn't count) she'll be one step closer. You have 3 days to set her free (Again, the days only count when you enter a dungeon for some reason) or the ending will be altered. See the next dungeon for details.
Also, any Girl Monster in child form will return to adult when you step here.
As a note, be sure to have Battle Note in your party (reserve or active) when you enter this dungeon. She'll find a key which opens up the right side of the dungeon, which is where we wanna go. The left side has rooms that contains all three parts for M Potions. Inside the left area, on your second run through of the game, you can find the three special girl monsters here as heart events. You can face two bosses that are both very powerful, with high HP and can remove your buffs.
The right side of the dungeon requires the use of several Girl Monsters in order to actually progress, here's a quick list of who you should have for each room (they are in order), and also remember you must hit the switches for the doors to open:

Trap Room: Battle Note. She's the only one who can let you walk safely over traps. In case you wonder, traps will send home all your girls. However, if Leo is the only one in the party, they will blow him up.
Mushroom Room: Yamorin, Nekomatamata, Yama no Sachi, etc. The tiles in this area will make you spin and toss you in a set direction. From the entrance go: East. From where you end head North, then West and West again to reach the switch. From the mushrooms there head south and you are back in the entrance. East and north to reach the door.
Poison Room: Maid-san, Harimao, Kusushi, Konte. Though you can just take the heat as you walk. Some of the "mirrors" here are fake, which is where you must walk through. From the entrance go: West, South (Poison), South, West, West, West, North, East (Poison), North, East (Switch), North, East (Poison), South and back to the entrance. Go South (Poison), South, West, West, West, North all the way then East to reach the door.
Water Room: BEFORE YOU EVEN STEP IN, BE SURE TO HAVE EITHER ChappuChappu, Zukappa or Umi no Sachi WITH YOU OR YOU WILL BE KICKED OUT OF THE DUNGEON. Sorry, emphasis was needed on that one. This room has water currents which will move you up or down. From the entrance go: Head to where the other door is, you should be at the bottom. Move south and you'll rise to the top, then move East to fall down to the middle, South to rise again, and West to end in the middle in front of the Switch. From the switch move East, then North twice and enter the door.
Fake Floor Room: Sour or Konte. Some of the floor in here is actually an illusion, and if you walk in, you'll fall down, which will make you go back to the entrance. Play it safe and bring either of those two fliers. From here on there are no more tricks.
Other Events
After leaving the fifth room, you'll find a fountain. You know,

Youko

's fountain. Not only will she heal you, but the next time you enter this dungeon, she will appear right at the entrance and offer to warp you to this point. (Top choice)
Right past the fountain there's a soldier guarding the door. Defeating this guy will stop the countdown for Irina's transformation. So say you are in day 50 when you defeat him, you could go all the way to day 99 (and more) and Irina would still be safe. This is your main target if you aren't going for the end right away.
Final Battles
After the torture soldier you will face Ika himself. He's not really that great. Just bring an able-body healer with you and some good attackers (Don't bother too much with status effects, as he can wipe them all with a single move). After you defeat him you'll storm out of the now burning palace.
Just as everything seems good and stuff, on our way away in our boat, out comes Sin-- I mean, Ika in his giant form. This is a tricky battle though, DO NOT ATTACK THE BIG GUY. Seriously. You will never be able to kill him (even if you transmigrate a huge number of times or have the best equipment possible). The catch here is that Kraken will climb Ika and eventually go inside him and, well... You'll see. However, if you deal 2000 damage (3000 in hard mode) to him, Kraken will fall off and have to start over again. So skip your turn or use Leo's whip or something. Actually, this fight is much harder when have higher stats, because if any of your Girl Monsters act on their own accord, Kraken will probably fall...
The final boss is... Pretty damn weird. Just try to hit him with everything you got, all your Girl Monsters are restored prior to battle, so lay it down on him. He also has this skill that will reduce the level of one of your Girl Monsters, so you might want to consider switching the target out.
Enjoy your ending. You will be presented with a screen detailing all sorts of stuff such as the days it took you to finish the game, Girl Monsters captured, etc. But the fun stuff is the list of your best Girl Monsters in any given category: Level, Life, Strength, Magic, Physical Defense and Magical Defense, then the Girl who saw the highest number of battles and finally, the girl you H'ed the most with. Click once and you'll get the name of the ending you got. If you captured every Girl Monster (with the exception of Hazure Onna and the three special characters from the 2nd playthrough), you should have gotten the Harem ending.