Double Teacher Life
だぶる先生らいふっ
Daburu Sensei Raifu~

(c)アリスソフト DVD case art
Brand
Alice Soft
Release date
2007/06/29
Genre / Rating
ADV / 18+
Base price
¥2800
Voice
Full except player
Background Story
Edit
After transferring to a new school our hero is trying to find a new place to live (with the help of his parents). He finds a posting of a woman wanting a couple of roommates. When he responds he finds that one position has already been filled. Feeling that time is running out, he heads over to find that the women are in fact total bishoujo. Not only that, but they teach at the same school he's going too. How will he hold up; living with the very women who grade/judge him in his daily life? He has only about three weeks until he can find another place to live.
This is Alice Soft's third game in a series of school life comedies. The game's soundtrack was released as Alicesoft Sound Album Vol. 11.
Characters
Edit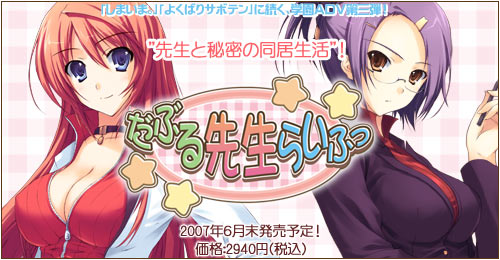 Heritage
Edit
This is the third game in Alice Soft's "school life comedy ADV" series, after Shima Ima and Yokubari Saboten.
Community content is available under
CC-BY-SA
unless otherwise noted.