Title Screen
[
]
This is the main menu of the game:
Start a new game as the 'Empire of Japan'
Start a new game as CORE (Unlocked after winning the game and beating CORE)
Load a savegame
CG mode (Unlocked pictures)
Scene mode
Music Player
Alicesoft Investigation (Only for japan)
Option Menu
Achievements and Stats
Quit the game
Invasion and Combat Menus
[
]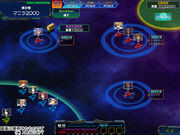 To pick a field to deploy your admirals, click on the blue circle.
Some battles have multiple formations engaging you and you normally are unable to reassign units after the first attack. If you are invading a planet, you must gain up to 8 stars minimum to win the invasion. Otherwise the army dies while trying to land and it's game over.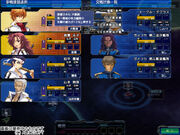 This is where you get to select admirals, you can pick up to 4 admirals per engagement, but only 8 admirals total can be deployed.
The red button on the left side is to retreat (Defense only), and the right side green button is to begin attacking.
All planets have a "security level" like in Daibanchou, so successful defense is very important. If a planet's public order falls all the way down to an invading country, the planet will be lost.