Akashi House
明石家
Akashi-ke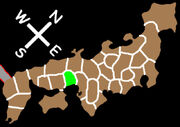 The previous leader, Akashi Fuurai, kept the house with decent strength. However, in one decisive battle against the Mori House, Fuurai, three of his sons, and all the major retainers of the house, were killed. The only survivors of the Akashi House are Kazemaru (Fuurai's youngest son), plus old men, women, and children.
The Nuhe, that were humanoid weapons Akashi Fuurai prepared for his youngest son Kazemaru, have human-female appearance. There are three Nuhe (excluding Hibachi) that have been introduced. They are Nuhe Ikuno, Nuhe Nawatori and Nuhe Yuuge.
Community content is available under
CC-BY-SA
unless otherwise noted.